Tidy - a new way to keep your stuff organized
Tidy is a true revolutionary solution when it comes to organizing items at home or workplace. Thanks to the QR codes technology placed on our containers, it allows you to get an easy and complete overview of everything you store.
Have you ever had a long search for winter clothes, a family album, kids' toys, or tools in your garage? It's always annoying not to be able to find your stuff. With Tidy, you can organize your storage easily. All you need is the Tidy App and a compatible storage box. Simply put the item in the box, store it in its place, scan the code with your phone and save the information in the app. Done! Just 4 easy steps to revolutionize your storage forever.
Generate your own QR codes

Suitable for home and business
Are you an entrepreneur running a DIY store, preschool, restaurant, or any other type of business? Tidy also has something for you. Save time and space with perfectly organized storage thanks to our QR-tags placed on containers and direct information flow between employees with Tidy.

Tidy is designed to be as convenient to use as possible. Apart from information about the room where the container is located, you can also add its location in this room and some photos. Additionally, you can add a reminder about the container and the application will send you a notification.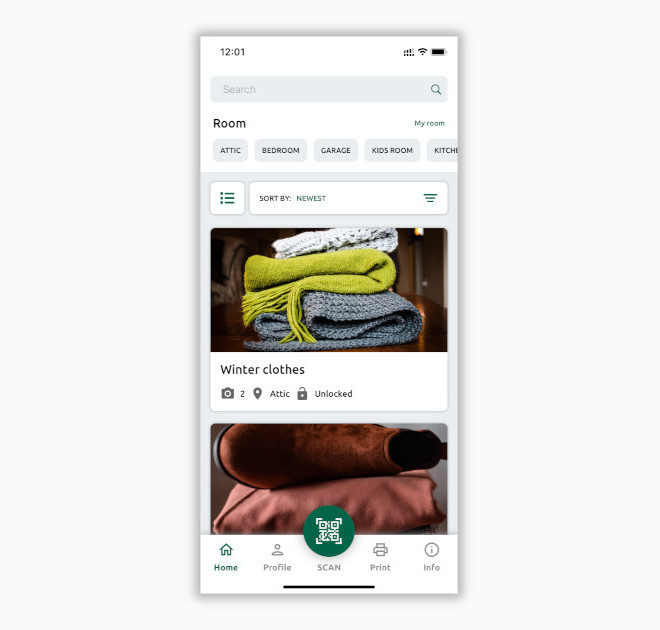 Handy in any situation
Even when you add more than a few storage boxes you can still easily find your items and the boxes they are stored in. The search bar will allow you to filter results by container name, items stored in containers, or by location. Do you want to browse boxes located in specific rooms? No problem, use the room filter!
Tidy also allows you to double-check the content of any container without the need to open it manually. Scan the QR code to view the information stored in the app.
Is it time for the big cleanup? You can generate a document with a list of all the boxes and their contents from your Tidy account.
Storage is SHARING!
SHARING is the most important feature of Tidy. Just scan a code and the container information will also appear on other devices. You can create your own storage universe with loved ones or colleagues.